School Advisory Council
What is a SAC?
A School Advisory Council (SAC) is an elected, collaborative team that works to improve student achievement, effective teaching in the classroom, and parent and community engagement in the educational process. At C.W. Henry, the SAC works collaboratively with the principal and other stakeholders to support the school community.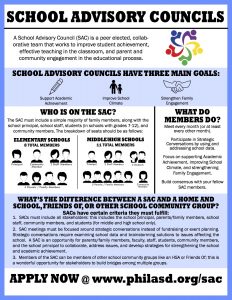 A Message from CW Henry's SAC
Click here for  a message from the CW Henry SAC: SAC-Blurb 
Share Your Ideas
If you would like to present a topic to the C.W. Henry SAC, please click here to submit the information form.  A SAC member will get back to you regarding your submission.
FAQ:
Click here to read the answers to SAC FAQ