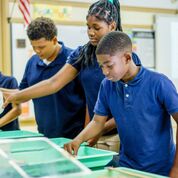 How to Register
C.W. Henry is a neighborhood school, serving approximately 500 families in the neighborhood of West Mt. Airy.
How to Register in a few easy steps:
Step 1: We have more families applying each year than we can accommodate, so here is some helpful information to help you figure out if you're in our catchment. Go to our helpful School Finder tool, and put in your address. If we come up as your neighborhood school, move on to step 2.
Step 2: Come to our front office between the hours of 9:00 a.m. and 1:00 p.m. to meet with our secretary, Ms. Liew. She will help you through the registration process.
Note: this takes at least an hour; sometimes longer…so set aside the time!
What you must bring (you must have ALL of the required documents in order to register):
You will need (1) form of proof of your child's age, (1) form of proof of your child's immunizations, and (2) forms of proof of address. You'll also need one form of photo proof of id.
Use this summary of Enrollment Guidelines to help you gather the right documents.