School History
The Charles W. Henry School was founded in 1908 when the doors of the "new" six-room building opened for students.  Prior to its opening, students were receiving their education at the Carpenter School located on the northeast corner of Carpenter Lane and Greene Street.  The School District of Philadelphia named its 374th school building after a prominent civic-minded businessman named Charles Wolcott Henry.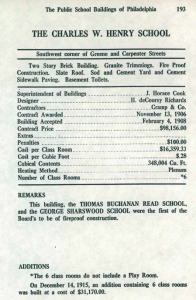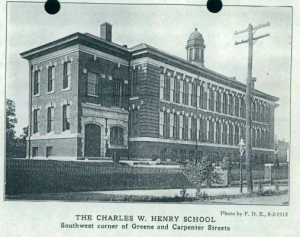 In 1949, the cornerstone of a second building that currently houses our gym, auditorium and five classrooms was set.  A "portable" four-classroom unit was added several years later to accommodate overcrowding.  In 1968, a beautiful eight-room addition was completed that houses our kindergartens, our computer lab, and 4 classrooms.  In 1995, two trailers were added in the lower schoolyard as additional classrooms.
Who was Charles Wolcott Henry?
Charles Wolcott Henry was born on October 18, 1852 into an old, respected Philadelphia family.  He was the son of Thomas Charlton Henry (brother of Alexander Henry, Mayor of Philadelphia from 1858-1862) and Mary Elizabeth Jackson (granddaughter of Oliver Wolcott, a signer of the Declaration of Independence).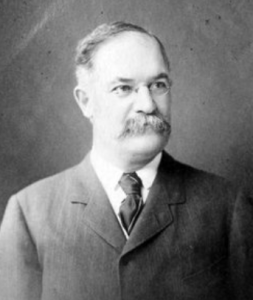 Charles Wolcott Henry
C.W. Henry received his education in the private schools of Philadelphia.  At the age of 20, he took over his father's lumber business, Henry, Bayard and Co.  He remained an active member of the firm until his death. While still a young man, C. W. Henry began to take an active interest in municipal affairs.  He represented the 22nd ward (a large area covering Mt. Airy and part of Germantown) in Common Council for a number of terms in the 1870's to the 1880's.  He was also chosen as Chairman of the Fairmount Park Commission in 1884 and retained this office until his death.
In 1884, Charles W. Henry married Sarah Bonnell Houston, daughter of Henry Howard Houston (yes, this is the same Henry H. Houston that the Houston Elementary School is named for).  C.W. Henry died in 1903.
Construction of the C.W. Henry School
The Charles Wolcott Henry School has seen such neighborhood history pass before it and within it. It was actually the scene of a bombing while it was under construction in 1906. The design of the building is the first executed by Henry deCourcy Richards and is identical with the Thomas Buchanan Head School at 1-8th Street and Buist Avenue in Southwest Philadelphia. Despite the later additions the original building survives intact to well represent the Georgian and Colonial Revival style buildings typical of Richards' early designs. (Source: penndot.gov)
The C.W. Henry School features classical detailing and massing through simple blocks. The architect's creative attention is concentrated on the main feature which identifies the building as a school: the tall windows needed to bring light into the classrooms. Here Henry deCourcy Richards articulates them by combining them in horizontal ranges, unified by polychrome arches and Continuous sills. The school was erected in 1906, identifying the early 20th century as the point when the surrounding community became large enough to require its own public school. An interesting analog to the appearance of this neighborhood school is the contemporary riding school established next door.  (Source: https://gis.penndot.gov/CRGISAttachments/SiteResource/H093363_93267_10.pdf)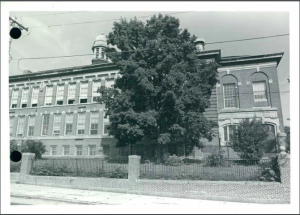 Photograph of the Charles W. Henry School, 1987 (Source: http://penndot.gov, negatives at the Philadelphia Historical Commision)