Welcome to Charles W. Henry School
A Message from Our New Principal, Kristy Len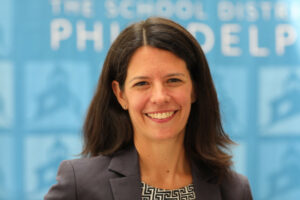 Dear CW Henry Community,
Welcome to the Charles W. Henry School and thank you for visiting our website! We are a historic school founded in 1908 and located in the beautiful Mount Airy neighborhood of Philadelphia. For more than 100 years, Henry School has provided an exceptional education to students who have gone on to become leaders in our city and world. The Charles W. Henry school is proud to have built a strong and enduring community that supports an equitable education for all students.
As our vision states, Charles. W. Henry School is dedicated to excellence.  Henry School is a teaching and learning community where instruction is child-centered and developmentally appropriate.  All students are afforded the opportunity to achieve their full potential in order to become lifelong learners and responsible members of the community.
We invite you to explore our website to learn more about who we are and how you can support our amazing community. If you have any questions, please give us a call at 215-400-3480 during school hours or visit the "Our Staff" page for email addresses to contact one of our staff members.
We look forward to a school year filled with learning, relationship building, and joy, and we hope you'll visit us soon!